Creating an account
The scholarship site is ONLY compatible with the following browsers – Firefox, Chrome, Safari, and Microsoft Edge. DO NOT use Internet Explorer!
Steps to create an account: To begin applying for scholarships, applicants must create an account on the Seattle Colleges Foundation scholarship application site: seattlecolleges.academicworks.com.
Click on "Create Account"
Use an email address (preferable college email address) or email address that you check frequently
Create a password
Verify your account – Log into your email account and click on the verification link
5 simple steps to start and complete an application: Click the image below to view the visual.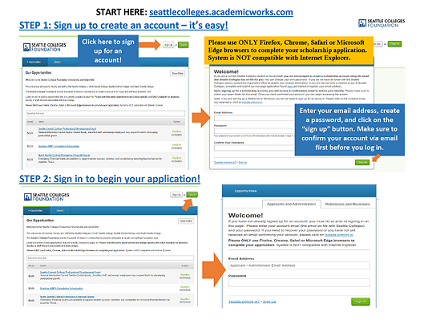 Trouble Logging In: Click on "Trouble Signing In" to reset password or verification link
Locked Out of Account: If locked out of account, applicants will have to wait one hour before it unlocks automatically. The site administrators do not have the ability to unlock accounts.