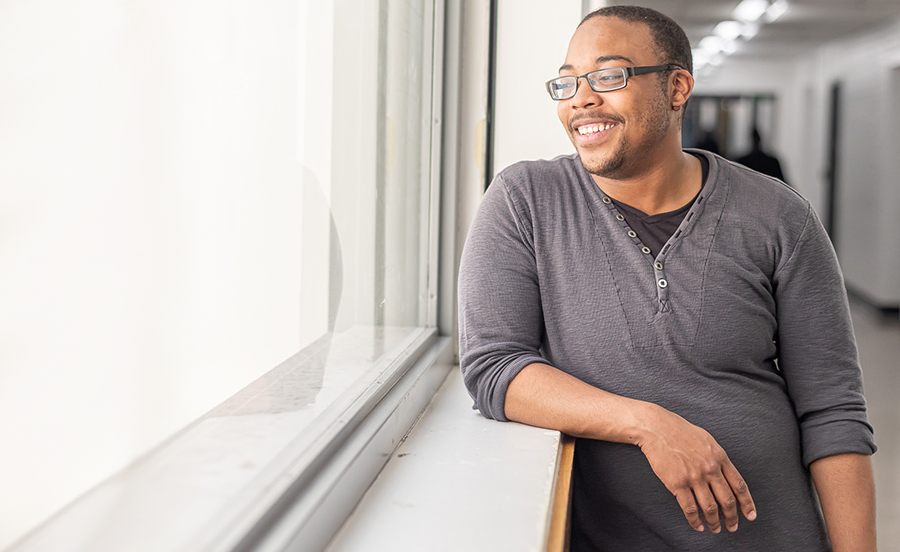 In June 2019, Xander Hurley walked across the stage, a proud graduate of Seattle Colleges and a survivor of homelessness, discrimination, self-hate, and rejection.
A solid start and then…
Originally from Georgia, Xander was born into a family of doctors, lawyers, and entrepreneurs who believed in and honored higher education. He followed the same path, graduating in the top 10 percent of his high school class and then enrolling in North Carolina A&T State University, a historically Black college in Greensboro. For three semesters there, he studied mechanical engineering on an academic honors scholarship with the intent on designing the technological intricacies that make vehicles modern.
As part of the honors scholarship, Xander had to maintain a 3.5 grade point average. One class proved to be an unsurmountable barrier: swimming. "I got a B in a swimming class and earned a 3.4 my last semester," Xander said. "I could pass the swimming tests, but I didn't go to class and fully lost my scholarship."
"I put on a swimsuit, stood in front of my dorm room mirror and said, 'nope,'" Hurley said. "I mentally could not put myself in the pool, in front of my peers. I wore swim trunks and a bikini top. I am transgender, but was not out. I didn't have the medical support to start my transition earlier, to acknowledge myself and let others know who I am."
Dropping out and couch surfing
Because Xander lost his scholarship, he had to pay $16,000 in order to continue onto the next semester. "I was too ashamed of what I had done, so I didn't tell my mom. I dropped out." For the next six years, Xander delivered pizzas in Marietta, Ga., a land of exclusive country clubs, affluent retirement communities and old money. Juxtaposed against the affluence of suburban Atlanta, long-term housing on minimum wage plus tips was out of reach, despite working full time for big-box pizza chains. A self-proclaimed "modern-day hobo," Xander slept in his car and couch surfed with family and friends as much as possible.
A second chance and a scholarship
In 2014, Xander left the east coast for good and found stability living with his uncle in Seattle. He worked temporary warehouse jobs and chose to attend Seattle Central College in 2016 and give college another try. Xander received financial support from Workforce Services and was awarded Seattle Central's Desmond Jackson Memorial Scholarship in 2017.
The Desmond Jackson Memorial Scholarship, which honors a Seattle Central student whose life was taken in 2012, is specifically awarded to African American male students at Seattle Central. Give now to student scholarships.
"This is reinforcement, proof of who I am and the person I'm trying to be," Xander said. "To have strangers saying 'we see you and without knowing you, we're proud of your life' meant a lot."