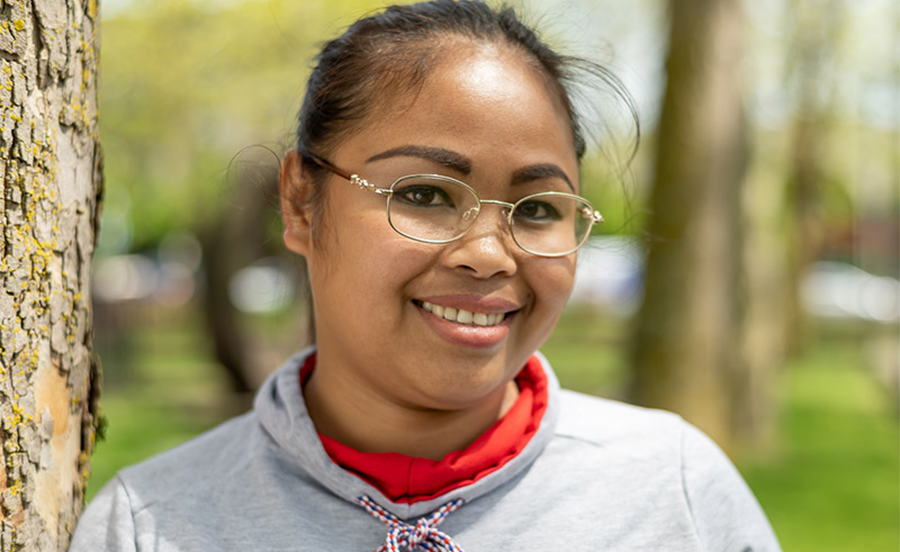 Edi Bala traded her modest, rural life in the Philippines for a life as a first-generation college student pursuing a career in the medical field.
"Our alarm clock was the chicken"
Edi grew up on five acres of farmland in a small village in the province of Saragarhi. Starting at five years old, she worked the land with her family, planting, fertilizing and harvesting corn, without the help of machinery. Their lone convenience, a water buffalo, churned the soil and tilled weeds deep into the earth between the endless rows. In fact, Edi's farm lacked electricity and running water. "Our alarm clock was the chicken. When the chickens made a sound, it was time to get up."
Edi rose every day at 4 a.m. and rode the water buffalo to fetch water, its source 45 minutes away. She started the day's fire, cooked rice, cared for her siblings and fed the animals. Returning from school in the early afternoon, she worked the corn fields until 7 p.m., did her homework, and fell asleep by 9 p.m.
But upward mobility is hard for rural families in the Philippines. Public schools, unlike those in the United States, require tuition payments on top of books, supplies, fees and daily living expenses. To make extra money for tuition, Edi worked on nearby farms and as a housekeeper. Her father cut sugar cane.
A move to Seattle, a family, and then an education
Seven years ago, Edi moved to the United States with her husband, a Seattle native and documentarian she met after a chance encounter. For her first five years in Seattle, Edi stayed at home and raised two daughters, now six and four years old. Her husband, a Seattle Central alumnus, encouraged her to apply to the college, eventually moving on from English as a Second Language (ESL) classes to graduating from Central's Sterile Processing program.
Life in Seattle, like her days in the Philippines as a child, are just as full. Edi wakes up at 4 a.m. every weekday and by 6:45 a.m., she's on her first of three buses to Central's campus for her 9 a.m. class. Around noon, Edi walks to work on First Hill, finishing her shift by 7:30 p.m. and is back at her Renton home by 9:30 p.m. just in time to put her children to bed.
"It's a good thing I'm still awake," she joked when discussing her packed schedule. "When you start working at a young age, you just get used to working hard."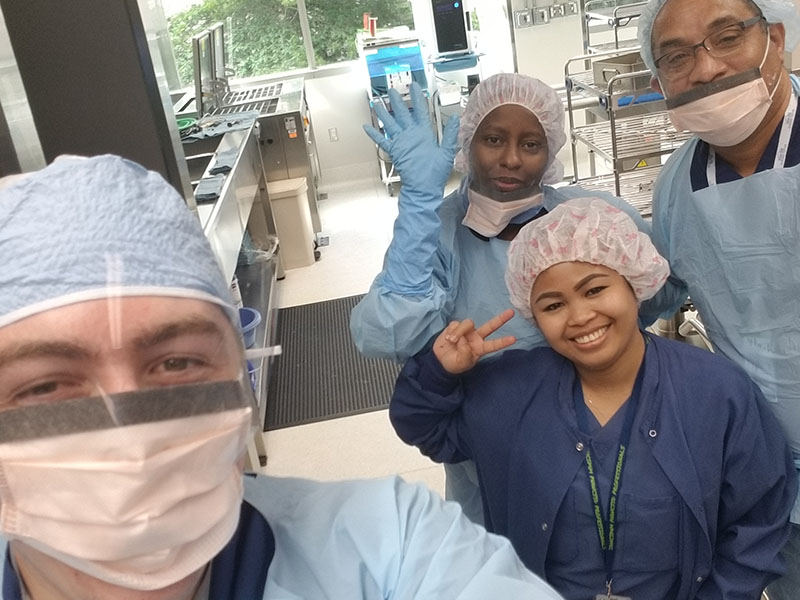 Working toward a career in nursing
Edi now has her sights on becoming a nurse, taking pre-requisites for a bachelor's program at Seattle Central or transferring to a nearby university. With family commitments, classes, and work, she often stays up until midnight or 1 a.m. to finish homework.
Her ambition for higher education stems from lessons her father taught her at a young age.
"We are not a rich family, but education is the only thing you can have. My father taught me that education is your sword in life," Edi said. "Escape poverty, take your time and explore the world. Go to school. It doesn't matter how old you are, just how willing you are."
Note: This video was originally produced by Seattle Central's Office of Strategic Partnerships for its "Start Your Life's Work" promotional campaign. See impact.seattlecentral.edu for more. The original full story, from which this is story is condensed, is available at impact.seattlecentral.edu/future-nurse.