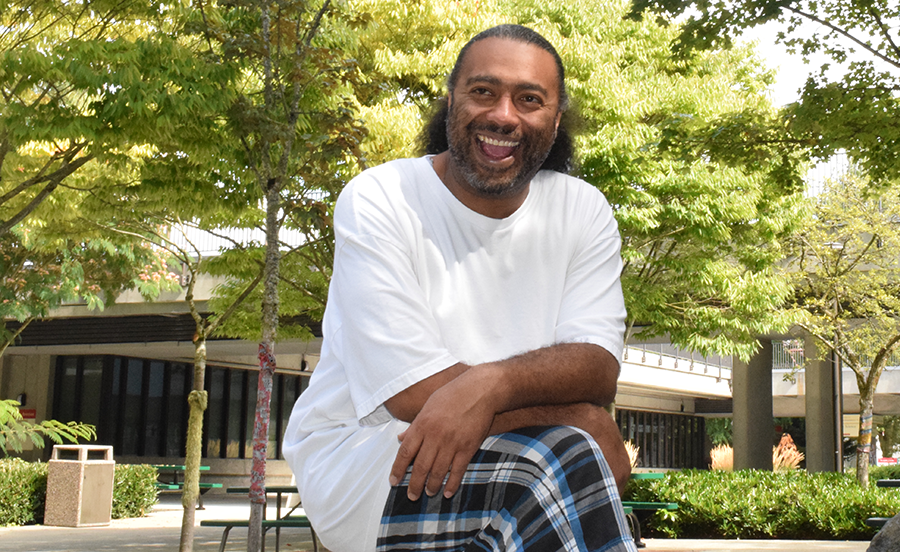 Kai Silva's smile—and his enthusiasm—are contagious. It's that strong and steady passion for learning along with his determination and, importantly, some scholarship funds that have taken him from a literal life on the streets to walking across the Seattle Colleges commencement stage.
"This, going to college, is something I wanted since I was a kid," said Kai.
Kai grew up spending periods of time homeless. He also made a few bad choices that led him to a felony conviction. For years, that felony conviction made Kai think he'd never go to college. It made it even more difficult to break the cycle and better himself through education because it prevented his eligibility for federal financial aid. How could he afford college? "That kind of news just destroys your motivation," he said. "It took a lot of determination to get to the next step."
Kai refused to let his past define him. He had the desire and drive, he simply needed someone to invest in him. Fortunately, federal law changed allowing access to financial aid, and Kai found out he also was eligible for a scholarship. These things suddenly made college a reality for him.
North Seattle College is where he chose to begin his future. Despite what he calls "a great uphill battle," he decided to enroll at North, going through the process of applying, registration for classes, talking to advising staff, and applying for scholarships. He also was able to persist and continue his studies with the help of an emergency and completion grant.
"I was spending all of my time fighting for the necessities in life, and the thought of college had to be set aside," said Kai. "I knew that it would give me a better quality of life, that through knowledge, I could widen my perception of the world and the opportunities around me."
Getting that door to open was the beginning, and it wasn't entirely smooth sailing all the way after that. Kai spent times homeless while studying at North. Fortunately, he made some key connections with faculty and staff who saw his potential, and they helped guide him. He said, "It's a huge hurtle not to know what to do next, especially when you're worried about bills, debt, rent, and not always knowing where you are going to sleep that night. But I have a support system here—student services, engaged faculty, and supporting staff have helped me get where I want and need to be."
Kai said at first he didn't know what program or area of study he wanted to pursue, so he started with prerequisites. His favorite classes have been sociology, psychology, and history. "The more I've learned, the more questions I have," he said, "and the more I want to learn!" Kai has been drawn to courses that involve discussions of diversity, equity, and inclusion. He said, "I really want to learn more about Hawaiian culture—my dad is Hawaiian."
Describing his best experiences at North, Kai said it's all related to getting to know the people, most notably international students. He said, "I feel like I'm a collector of people, or at least their stories. I want to be more engaged. I think my qualities and talents are grounded in dealing with others." Because of this, he is interested in a career involving activism, journalism, and policy making. "I want to make a contribution by helping people, especially people who are struggling, hurting, or in pain."
His career goals and the scholarships that helped him persist have led him to a deep appreciation of those who support scholarships. "What I'd like to say to those who give to student scholarships is 'thank you!' I want to let them know they've empowered me to see that anything is possible in life," said Kai. In addition, he suggested that while it's important to give and that he is sincerely grateful, "It's also important to talk to students to ask how they need help. I mean help is just needed everywhere, and everything, anything helps. It all really makes a difference."