Frequently Asked Questions (FAQs)
Following are a number of questions and answers regarding the Seattle Colleges Foundation and related information.
If you have additional questions, contact us.
Q: I have a great idea for fundraising for my department. How should I proceed?
A: We welcome the creativity, enthusiasm, and willingness of our Seattle Colleges colleagues to raise funds for programs and projects across the district through the Seattle Colleges Foundation. To avoid over-solicitation and duplication of effort and to ensure the most effective use of resources in seeking private support for Seattle Colleges, we ask that you coordinate your efforts with the Office of Advancement in collaboration with college leadership. 
You may initiate and lead a fundraising activity with prior approval from and coordination with the Seattle Colleges Office of Advancement and approval by the appropriate supervising staff and vice president at each campus. Contact us well in advance – a minimum of 4 to 6 weeks prior – to set up a meeting to discuss your ideas. Major events require a window of six months to a year prior, depending on the type of event. Learn more.
Q: What is the distinction between the Seattle Colleges Office of Advancement and the Seattle Colleges Foundation?
A: The Seattle Colleges Office of Advancement and the Seattle Colleges Foundation are two separate entities with a shared mission and vision.
The Office of Advancement is a unit within Seattle Colleges that coordinates fundraising efforts districtwide. We have staff members located at each college as well as the district offices. Our Advancement Team works with donors, administration, board members, faculty, staff, and students to lead and coordinate fundraising efforts; to build relationships with donors; to manage scholarships; and to advance the mission of Seattle Colleges.
The Seattle Colleges Foundation, a separate entity known as an institutionally related foundation, serves as the official charitable foundation for Seattle Colleges. It is a nonprofit entity that works in partnership with advancement staff to raise private funds to advance the mission and strategic goals of Seattle Colleges. The Seattle Colleges Foundation has its own separate volunteer board of directors.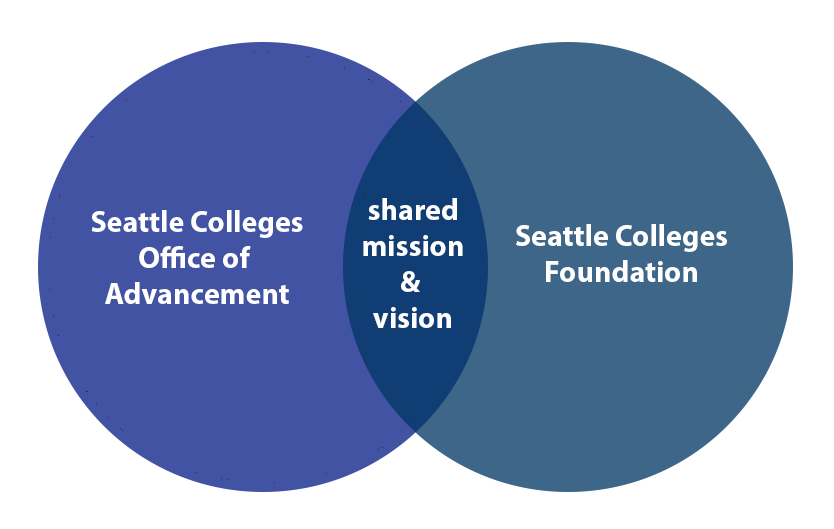 Q: Why is coordinated fundraising across Seattle Colleges important?
A: First, it creates efficiency and consistency across the district. Resources are pooled, and processes are the same at all of the colleges. Coordination avoids repeatedly approaching potential large donors, often for smaller amounts, and allows Seattle Colleges to "think big" while developing fundraising plans for strategic priorities. Ultimately, it creates stronger, win-win relationships between donors and Seattle Colleges.
Q: Why was the decision made to consolidate to one foundation?
A: The move to a single, unified foundation follows a prevailing national model for multiple-college districts adopting an integrated approach. It seeks to serve the philanthropic needs for each college as well as Seattle Colleges as a whole. With implemented structural changes, consolidated resources, improved coordination, and renewed strategy and alignment, we increase efficiency and our overall fundraising capacity.
Q: How are Central, North, and South represented in regard to the Seattle Colleges Foundation?
A: The Seattle Colleges Foundation serves the entire district – all the colleges and specialty centers of Seattle Colleges. Program managers are based at Central, North, and South to work directly with students regarding scholarships and with faculty and staff who interact with the foundation. Additionally, the presidents of Central, North, and South all sit on the Seattle Colleges Foundation board of directors as ex officio members. Finally, our new major gift officers and other support staff are learning more every day about the students and programs at each of our colleges and specialty centers, and they are identifying philanthropic opportunities and donor interests – both college-specific and districtwide.
Q: What role does the Seattle Colleges Foundation play in supporting the Seattle Promise, part of the recently passed voter levy?
A: The Seattle Promise program is a public-private partnership that in the next year will expand from the current six high schools (Cleveland, Rainier Beach, Chief Sealth, West Seattle, Garfield, and Ingraham) to all Seattle public high schools by fall of 2020. The foundation will work with individuals as well as business and community partners to raise funds for the duration of the seven-year levy and to create an endowment fund for long-term sustainability. Learn more at seattlepromise.seattlecolleges.edu.